Inspire patient confidence, increase credibility and trust, and grow your business with the NBC-HIS Digital Badge
Most healthcare provider decisions begin online. Show your potential patients and their families you have earned the title of Board Certified in Hearing Instrument Sciences with your unique digital badge. Yours is coded especially for you and cannot be duplicated. With just one click, your official badge confirms that you are board certified and demonstrates to patients the stringent requirements you met to earn and keep this impressive credential.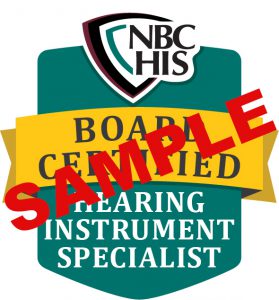 What Will the NBC-HIS Digital Badge Do for You?
Your NBC-HIS Digital Badge is a simple, visual and effective tool to help patients and their families validate your board certification credentials online. It is more impactful than just using BC-HIS after your name in email signatures or on your website, and can also be used on your social media sites, including your LinkedIn profile and Facebook page.
In one click, your prospective and current customers can see the rigors of achieving and maintaining board certification. It is an excellent way to differentiate yourself from non-board-certified competitors!
Building Your Brand
Your NBC-HIS Digital Badge is a part of your professional brand.  By using it, you can expandyour digital marketing presence in a meaningful way. Not just another logo, your Digital Badge is separate from the NBC-HIS organizational logo with its own meaning and function — it tells everyone who sees it that not only have you earned the highest level of hearing aid dispensing accreditation, you are committed to maintaining ongoing education in your field, all for the benefit of your patients and their families. Using your NBC-HIS Digital Badge increases your credibility and encourages trust.
Here's How You You Can Get Your Digital Badge
NBC-HIS has tapped Credly/Acclaim, a leader in the digital badge space, to be our Digital Badge provider.
For everyone who is already board certified, the NBC-HIS Digital Badge program launched February 1, 2019, and a badge invitation email was sent from YourAcclaim.com, to your email on file with NBC-HIS, asking you to claim your badge.
When you become board certified, you will receive a Digital Badge invitation from YourAcclaim.com approximately 1-2 weeks after passing your board certification examination.
When you receive your Digital Badge invitation email from YourAcclaim.com:
You must "claim" your badge by clicking the "Accept" link in the invitation email. NBC-HIS staff has already pre-loaded your Digital Badge information.
You will be given options to quickly and easily share your Digital Badge.
You control how and where the Digital Badge is shared on social media, your website, or your digital signature.
If You Don't Receive An Email Invitation…
If you did not receive an invitation email from YourAcclaim.com on February 1st, 2019, or within 2 weeks of passing your certification examination, NBC-HIS either does not have an email on file for you, the email we have is not a valid email, or the email was blocked. Call 734-522-2900 to update your email address, and we can issue you a Digital Badge within a day.
What Happens to My Digital Badge if I Don't Maintain My Board Certification?
Only BC-HIS certificants in good standing are able to use the NBC-HIS Digital Badge. Should a certificant lose their credentials after receiving a Digital Badge, the badge will be revoked immediately and the badge and associated information will be removed from all social media platforms.
The Digital Badge is just one more tool that NBC-HIS provides to its certificants to help you market and position yourself as the expert in your community.  Not yet Board Certified? Learn more here.