Since 1981, we have been the benchmark for standardized tests for measuring the competency of hearing healthcare professionals. Ours is the only board certification program for hearing aid specialists in the hearing healthcare profession accredited by the National Commission for Certifying Agencies (NCCA).

We're dedicated to providing a standard of excellence and a strict Code of Ethics among hearing healthcare professionals. Over the years we have expanded internationally with affiliates in Australia, Bahrain, Canada, England, Ireland, Israel, Lebanon, Mexico, the Philippines, Saudi Arabia, Scotland, and the United Arab Emirates. NBC-HIS board certification is the recognized international competency standard.
CHOOSING BC-HIS IS A WELL-INFORMED DECISION
Like every other field, hearing technology is a rapidly changing specialty, and as it continues to evolve there is a constant need to champion a standard of excellence. NBC-HIS sets and upholds those standards through innovative thinking and a commitment to excellence for the benefit of the hearing impaired consumer. When you choose a Board-Certified Hearing Healthcare Professional, you can rest assured that you're getting the best in the business and the peace of mind that goes along with it.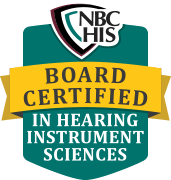 YOUR HEARING HEALTH
Good hearing has a direct impact on your quality of life. For many, hearing loss is so gradual that it is hardly noticed. Hearing loss is usually detected first by family, or as a result of a hearing test.

Consider having your hearing tested by a Board-Certified Hearing Healthcare Professional if you:
Have a family history of hearing loss

Have been exposed to high noise levels

Have begun to feel that people aren't speaking as clearly as they used to

Find yourself straining to understand conversations

Find yourself watching people's faces intently when you are listening

Frequently misunderstand or need to have things repeated

Increase the television or radio volume

Have health problems or have recurring ear infections, constant ringing in the ears, or dizziness
There are many other clues to possible hearing loss, but these are the most frequent indicators.
HOW CERTIFICATION BENEFITS YOU
Selecting the best qualified hearing healthcare professional is a decision that will have an enormous impact on your quality of life. It is important to find a Board-Certified professional - one who has a proven commitment to professional excellence.

A Board-Certified professional has spent a great deal of time and effort preparing for and completing the certification process. This dedication to professional growth is the mark of an accomplished hearing healthcare professional who continuously strives for advanced levels of quality care.
Certificants understand the importance of:

Achieving the highest standards of knowledge and skill
Continually pursuing new knowledge
Understanding and applying new technology to benefit patients' needs
Ensuring the best possible care for you, the patient
CHOOSING YOUR HEARING AID
NBC-HIS certified professionals can assist you in selecting the hearing instrument that will provide you with the optimal amplification for your individual hearing loss. The proper selection of a hearing instrument is not only influenced by a person's hearing loss but by many other factors including:
Lifestyle
Environment
Occupation
Manual Dexterity
The type of hearing instrument you need depends on your individual hearing loss and the nature of that loss. Here are the five basic types of hearing instruments:
· Receiver in the canal hearing aids (RIC) a small behind the ear style device with the receiver inserted into the canal.
· Completely-In-The-Canal (CIC) fits deep in the canal and is barely noticeable.
· In-The-Canal (ITC) fits within the canal portion of the ear and is less visible.
· Behind-The-Ear (BTE) model is a small hearing instrument housed in a curved case that fits securely behind the ear. It is attached to the earmold by a short, plastic tube. Sound is delivered from the hearing instrument through the earmold and into the ear canal. BTE models will fit the widest range of hearing losses.
· In-The-Ear (ITE) model fits within the outer ear, extending into the ear canal. This model accommodates wider varieties of hearing losses.
WE'D LOVE TO HEAR FROM YOU
16880 Middlebelt Road, Suite 4
Livonia, MI 48154
Tel: 734-522-2900 (between 9 am and 5 pm Eastern Time)
Fax: 734-522-0900
Email: info@nbc-his.com